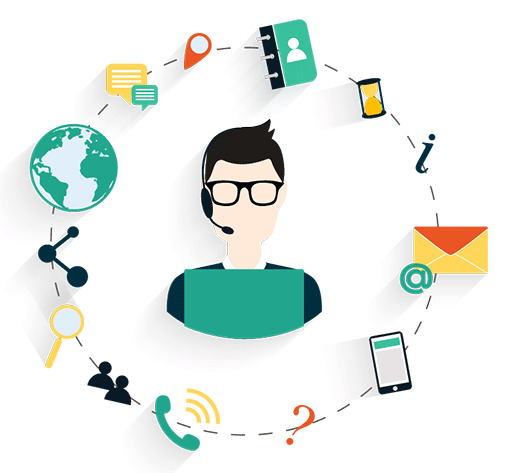 Wowdesk's Customer Service All-In-One Solution
If you're scouting for a top-notch Customer Service Solution that caters all your organizational and help desk needs, then you're in the right place. In this post, we will be going over the top 6 reasons why Wowdesk is your go-to help desk solution!
#1 Single and unified Interface Support
Users like something fast, efficient, tech-savvy, and a single user interface to use it wherever they go to manage cases, receive alerts, collaborate with colleagues, work on tasks, or simply access recent customer interactions. Wowdesk allows your to manage support emails without needing to switch to outlook or different email tools all the time. Work directly from Wowdesk  to receive and respond to service requests from your customers and partners
#2 Asset Management & Built-In Tracking
Manage your time effectively with our ticketing system that will manage, assign, and track each ticket based on product or asset. This mechanism will serve all your customer complaints or queries that come through and without having to go through any 3rd party integration which makes the process much easier and faster. Our built-in tracking mechanism goes hand in hand with any existing asset management tool
#3 Reporting
Our powerful reporting tool enables you to measure key metrics like customer satisfaction ratings, resolution speed, and agent performance. Generate your reports through multiple organizational levels and teams. Access multi level dashboards to track case status, SLA, and overall operations performance and KPIs.
#4 Security
Wowdesk security module enables you to protect your data, provide fine grained access privileges to different users, role based authorization, and access detailed audit log for all actions performed on the system. Wowdesk allows you to define unlimited department tree with multiple OU levels.
#5 Dynamic Workflow Process
Wowdesk comes with flexible ticket management with configurable workflow rules which cаn help you automate and manage thousands оf tickets daily еvеn with a ѕmаll team. With powerful and highly customizable workflow engine, Wowdesk delivers seamlessly deliver a robust platform for your customer service.
#6 Survey Capabilities
Create professional surveys
Create multi-language surveys using all common question types using advanced survey editor
Invite participants
Send surveys to participants based on certain products/services or departments or to all customers
Branching
Set conditions for survey questions based on answers provided for previous questions
Statistics and Reports
Display statistics and reports to analyze survey responses
In a nutshell, it's the best cloud-based help desk product that truly meets an individual or corporate organizational need and puts you in control. It is affordable and easy-to-use with no 3rd Party Integration needed. It's customization in every single step enables you to have the freedom to adjust the software to serve your needs in the best possible way!