If you work with people, sell a product, or offer a service, you likely address complaints, and customer complaints can take many paperwork. All business need to handle complaints of some type, certain industries—like healthcare, government, education, financial services, and retail—additionally have to bear in mind how failing to resolve a customer complaint may hurt the business reputation or imply regulatory compliance issue.
Some examples of complaints management Software and tracking:
1. Complaints Management in Financial Services Industry
If you are a bank, a credit union or an insurance company, you may receive complaints about credit card issues, incorrect fees applied to an account, or delay in processing a transaction.
Financial institutions are closely monitoring by government bodies to ensure customer complaints are tracked and resolved properly.
The Consumer Financial Protection Bureau(CFPB) managed 8000+ complaints for unresolved complaints escalated to CFPB IN 2016.
2. Resolving Telecom, Technology, and Software Complaints
Telecom and Technology companies receives complaints about a device not working properly, a phone line that has a poor service, or wrong charges applied to an account. In Software companies handling complaints, bugs, and issues are a daily routine that needs to be efficiently tracked and managed. Unresolved complaints can result in damaging the company image and reputation in this cut-throat competitive markets.
4. Healthcare industry and Hospitals complaints management
Healthcare providers handle customer complaints reported against medical devices or services. Complaints must be efficiently managed to ensure patients complaints are resolved properly in this sensitive industry. Patients may additionally need to report mistakes and malfunctions with device and equipment. Moreover, a patient may report complaints against hospitals or healthcare facility to complaint about unclean rooms, discharge delays, or staff professionalism.
5. Government and public complaints management
Government organizations, cities municipalities or local government organizations receive thousands of daily complaints from people about roads, taxes, employment, healthcare and other citizens complaints. People are using traditional and new channels to submit their complaints. Government organizations should be able to receive, process, and respond to these large number of different types of complaints in timely and efficient manner.
The Life Cycle of A Complaint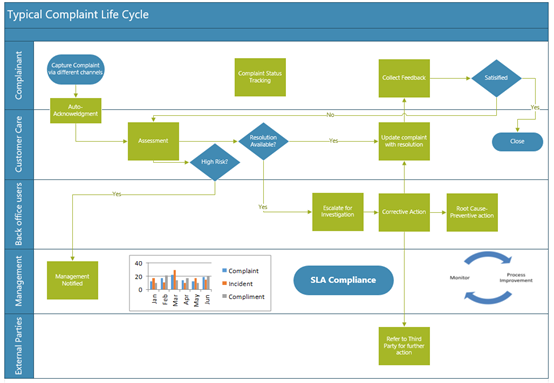 You should deal with complaints in a manner that is complete, fair to all parties and provides just outcomes
Assess complaints to determine appropriate responses by considering risk factors, the wishes of the complainant and accountability.
The nature of an investigation into a complaint will vary according to the nature of the
complaint. Investigating a complaint consists of:
• collecting relevant facts—interviewing all people involved in the complaint, collecting
relevant records, accessing policy and procedure documents and examining equipment;
• analysing the information collected;
• making findings about the events and the underlying causes of the complaint; and
• considering strategies and making recommendations for improvements.
Use complaints to improve the service, and regularly evaluate the complaints management policy and practices.
What's your complaint management procedure?
Some companies handle complaints via excel sheets or manual paper documents. With the new era of connected technologies and new channels and touch points, it is becoming more and more pressing to use a complaints management software to collect, assess, manage, track, monitor, , respond, and report on all complaints from a single consolidated dashboards and views.
Wowdesk is the leading complaints tracking software that provides ISO compliant platform for managing customer complaints.