Feedback from customers is important for companies that want to grow. These not only help in gathering valuable customer insights but also allows businesses to identify the drawbacks of their product & service. 
Complaint handling delivers extremely crucial information that helps an organization to assess and refine its areas of improvement. You can make use of a power-packed complaint software to handle your customer feedback and build lasting professional relationships. 
5 reasons why complaint management software is important
To grow and sustain in this competitive arena, the revelation of disappointment must be handled with positive responses and actioning improvements. Here's how a complaint tracking software can help you succeed –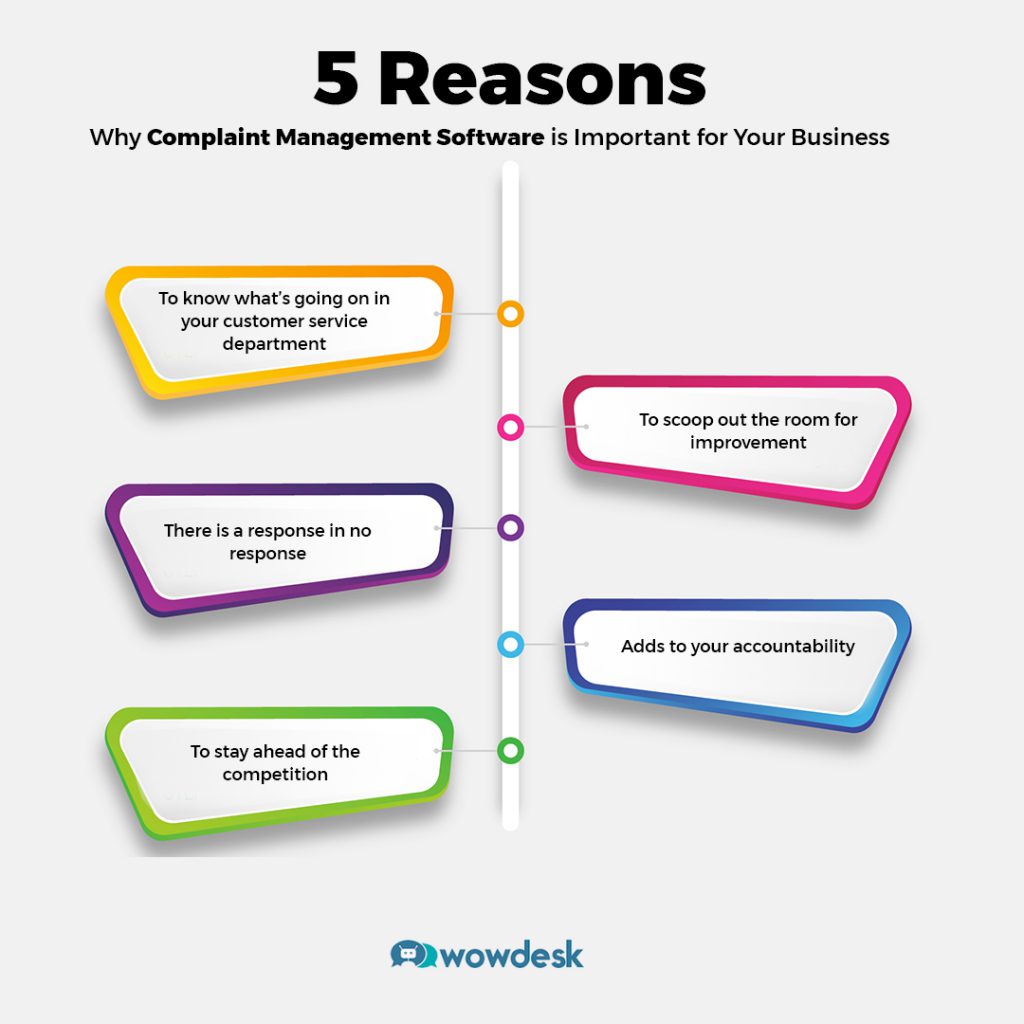 1. To know what's going on in your customer service department
Do you know that our biases always set the direction for our perceptions?
It is human tendency to reassure themselves when faced with an uncertain situation. It is not even unexpected – it is human nature to do self-protection. 
In the same way, the businesses also do self-analysis; for that, they conduct retracing their steps to determine the exact story. That is why to identify the root cause it is necessary to manage complaints properly. 
If you won't receive feedback from customers, you will be left wondering whether customers are satisfied or not with your product and services.  
Ignoring the perception of customers won't take any business further, as their satisfaction is the ultimate goal. So welcome the complaints, opinions, and suggestions to deliver quality solutions. You will be delighted to observe how invaluable feedback is when you listen and work on them. 
2. To scoop out the room for improvement
Once you understand the importance of listening to your customers, the next step is to accept that no business is perfect, there is always room for improvement. One or another day you may run into a situation where you need to take social, managerial, or business decisions that you have never thought of. Industry practices are not monotonous, and you need to keep up with them.
A good complaint management software integrated with monitoring tools such as key performance indicators and quality check meter to make sure that your team stays updated with product or service failures. The modern complaint management system uses AI to find the root cause so that you can take the necessary measures to improve.
3. There is a response in no response
If you think not simply responding to customer problems is the best way, think again. 
These tactics are old-school and are not effective in the dynamic business world. If you ignore your customers, it clearly shows that you don't care, even if the ignorance is not intentional. You see, caution is the keyword here. 
Most of the complaints are public now- on social media, review sites, and public forums. Onlookers and potential buyers are there to notice how you react or respond to a complaint, from there they decide whether your brand is trustworthy or not. Staying silent and ignoring complaints make the situation even worse. 
Complaint management software helps you track each complaint irrespective of the platform. It helps to prevent the possibility of the ignorance of any complaint, thus giving you the option to create a prevention strategy. 
4. Adds to your accountability 
When a customer request gets allotted to any representative, how do you know it gets handled properly? 
Using a complaint management system, it is possible to assign the request to any team member or an entire support team. Every request has the attached time and date tag with it, so you will easily track the updates and their time. It avoids any delay in the updates and streamlines complaint handling.
5. To stay ahead of the competition
Modern complaint tracking software helps your business build a reliable ongoing relationship with customers. If you have a strong bond of trust with your customers, it will be difficult for your competitors to acquire them. 
When you are aware of the perception of customers about your brand, it will be easy for you to offer them a better service. So, find a robust complaint tracking software and use it to outmatch the thriving competition. 
The surge in the use of technology, the internet, and social media have changed the way to run a business, consume goods and services, stay entertained, and communicate. Complaint management systems are not untouched to these changes; in fact, most of the customers today voice out their dissatisfaction on social media channels such as Facebook or Twitter, and this trend is shifting at a worrying rate. You can take full advantage of your complaint tracking software to establish a positive customer relationship. 
Considering everything, complaints management is truly essential for customer service and successful business. If you also want to incorporate a top-quality complaint management software contact Wowdesk. Our system is proven to streamline all customer support activities – get in touch to know more!