With multiple platforms accessible to customers, it is almost impossible for teams to manage all the complaints or queries manually. Also, no matter how many doors there are to reach a business today, emails have always been a professional way for customers to reach companies with their queries and requests. Still, many business owners have doubts about whether to use an email ticketing system or not. Current customer service trends revealed that emails are still the most commonly used customer service channel with 54% of customers using it in 2018.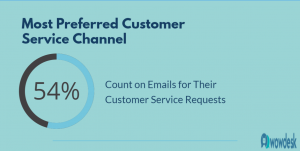 Moreover, they expect a response to their emails within an hour. At the same time, the response rate on live chats should be much higher with customers expecting a response to their messages within 45 seconds before they leave the chat (or maybe the business forever). With so much to handle, businesses with small teams can end up with inefficiencies in their customer support system. Fortunately, there are powerful and efficient email support system available that can channel all your service requests, whether it's on an email or on live chat, to a single dashboard. 
Below we will go through some points to prove why your business needs an email ticketing system to handle customer queries more efficiently and keep them satisfied. 
Work Transparency
Transparency is an essential part of effective teamwork. Work just runs better when everyone in the team knows what the other members are doing. When peers and managers, both will have a centralized email ticketing system, the process of assigning tickets to the team will be easier. 
Employees will know what they will be working on next and they can set priorities. You will not start working on things already done or currently in progress by other team members. This aids in faster workflows.
Meaningful Categorization
Unless basic emails, email tickets management such as Wowdesk come with categorization and filters, to help an organization with rapid ticket allocation. This also helps robust systems in providing real-time analysis and meaningful, detailed reports of performance levels.
No Missed Complaints
Many support providers often miss some requests while handling email queries and human-errors are inevitable. However, once you have an email ticketing system, everything stays in the record as it is useful in reporting. This allows ticketing systems to alert you about any missed or forgotten tickets to never leave an email request unattended.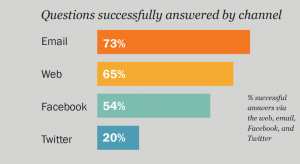 Source-Eptica
More Organized
Lack of organization is never a good sign for any business as it results in less productivity or longer time for ticket resolution. Unlike traditional techniques where you need to manually organize everything, an email support system can organize a list of tasks as per priority helping support agents to be more productive and help clients that need it first.
Being an online system, it will also prevent piles of paper with its excellent storage capacity that you get on the cloud. Moreover, the organized reports will help you keep track of all the previous client conversations, preventing you from annoying the customers with similar questions repeatedly. 
Key Takeaways
An email ticketing system is certainly the need of the hour due to its amazing efficiency, speed, tracking and reporting capabilities, and professionalism. You will feel a level of excellence with an effective ticketing system managing your emails. Get in touch with us today and try Wowdesk's advanced support tools to offer top-notch service to your customers.