A successful organization is built by employees. Employee satisfaction and service are crucial for the smooth running of any enterprise. 
Handing employee queries inappropriately can sometimes lead to confusion. It can also damage your brand image and hurt the morale of the employees. An HR helpdesk software not only makes it easy to maintain the records of employees but it also ensures that your hr ticketing system runs fine. It can save you from multiple internal team conflicts and create a conducive work environment. Let's discuss more.
What is HR Helpdesk Software?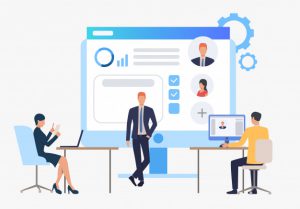 An HR helpdesk software creates a common platform for both employees and HR administration. It makes it easy for employees to reach the organization without any hassle. It offers varied support including employee self-service and manager self-service, thus, limiting the time spent on managing and resolving issues. 
In any organization, the HR department is mostly burdened with critical tasks to manage as well as keep the company in good shape. It includes interacting with employees, learning their concerns, understanding their perspectives, and inculcating them into the system. It also includes reaching out to higher authorities and ensuring that their queries are heard. Aside from that, recruitment, onboarding, and training are always on the cards. 
Looking at such vast responsibilities, it becomes difficult to manage and coordinate. In such a scenario, a help desk software can ensure that employee queries are not only being heard but they are also being resolved. After all, resolving employee queries is an important part of the role. ware
HR helpdesk software creates an HR ticketing system through which employees can raise their queries easily. This way, the entire query section is integrated on a single interface. The employees can check past queries, queries that match with theirs and take relevant actions. The entire HR process is thus streamlined. 
An hr ticketing system improves the efficiency of the HR process by making sure that the ticket reaches the right person. For instance, if you raised a query against the food in the canteen, the software will automatically generate a ticket and transfer it to the food administrator.
Aside from that, the HR team can also keep a check on the raised queries. The team can accept, respond, and register the queries in a more synchronized way. Furthermore, the team can analyze different queries made in a year, create a report to figure out what is a creative hurdle for employees, and improve your system. 
Why is HR Helpdesk Important?
As I said, the human resource department of any organization plays a crucial role in maintaining and harmonizing activities. The success of any organization is determined by the streamlined and smooth functioning of work throughout the system. 
As the organization expands, and workload begins to hype up, the HR system also needs to pace up to keep up with an increased number of employees. It needs to create a direct link between employees and the organization to internally share the information. Intercommunication thus becomes essential to manage the entire workflow.
An HR helpdesk software fills the void by creating a bridge between the organization and employees. This system works around the clock to meet the needs of employees. The software ensures that employee queries are resolved automatically through the efficient hr ticketing system. As the software is automated, the queries can be handled in a better way.
For instance, if you are looking for appraisal-related queries, the helpdesk software will automatically refine previous queries that match with yours to take you to the employment policies section or to the past query to find the right answers. This way, the queries are not repeated and solutions are found instantly. 
With HR helpdesk software and ticketing system, you can – 
Create a common platform to share information within the system

Improve employee efficacy by building a strong HR system.

Establish one to one communicating between employees and top-level authorities

Make internal communication easy

Integrate data at one place

Resolve employee queries efficiently and in one go

Create integrated data of all the queries to generate a report

Make appraisals easy and so much more.
The right HR helpdesk software should align with your company policies. It should make it easy for your employees to operate more effectively. The software should make sure that your system is running smoothly. It should showcase your company policies and guidelines. 
To Sum It Up
The human resource team plays a vital role in maintaining the integrity of the organization and ensuring that everything runs without a glitch. A robust HR ticketing system can help them streamline their operations, leading to higher efficiency and productivity of employees. 
A robust HR helpdesk software creates an efficient HR process to manage the workforce and resolve issues quickly. Wowdesk HR helpdesk system can be rightly employed to simplify HR functions and boost organizational productivity. To get more details, visit us here.