Maintaining the bottom line seems to be a daunting task for organizations, especially when it relates to customer experience. Ever since businesses have begun to understand the significance of customer experience and how it can make or break a company's reputation, they are promoting a customer-centric culture. Companies have acknowledged the need to improvise on customer satisfaction. They are desperately trying to achieve the goal of being a true customer delight. But how can it be done? How can you cater to customer issues, complaints, and feedback while being efficient and productive?
The answer is simple – switch to a robust helpdesk ticketing system.
To empower your support executive and deliver a gratifying customer experience, you can start using a ticketing system. These software solutions outshine emails that are claimed to be flexible and straightforward but demand a lot of time and human intrusion. Let's learn more about the utility of a support ticket system and the benefits it has to offer. 
What is a Ticketing System Software?
Are you struggling with documentation of customer requests and interactions? Do you face issues with prioritizing your customer request?
A helpdesk ticketing system is a management tool that makes the process easier where companies can manage their services and support cases. It helps team members to prioritize their assignments better to create a memorable customer experience. 
Benefits of Implementing a Ticketing System Software
Here are five reasons that compel you to adopt a ticketing system software:
1. Centralizes Everything
When you encounter a lot of information to be managed and streamlined, a ticketing system is far more useful than any other tool. It functions as a system of record where nothing can escape your eyes.
It also offers easy access to the system through web browsers and mobile apps, which ensures that all of your service information is present in a centralized manner. Moreover, it also offers the ability to communicate with various clients from within the ticketing system. This collaborative working provides for shared visibility where nothing can be left unresolved.
2. Peep Through a Detailed History
Instead of remembering whom to keep in CC on the email thread to know the history, adopting a ticketing system software is a far better option. It provides your team members with an organized and easy to search history of service events.
As it provides you to look through the detailed history of queries and what was done to resolve them, your team can significantly improvise on their efficiency. Moreover, it acts as proof in case of any discrepancy on the customer's end. Here you can show what, why, and when the action was initiated.
3. Designed to Offer Multi-Channel Support
Different clients communicate differently. Some prefer to call while they face any issue, while others may prefer to drop an email. Also, some think texting as a better option.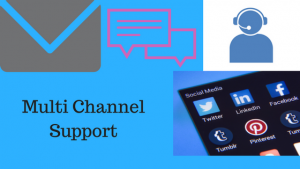 With the changing dynamics of communication, customers may request different avenues of support from your team, depending on their convenience. A helpdesk ticketing system is designed in a way that it can work smoothly in a multi-channel environment. 
This functionality of working in a multi-channel environment would give your customers the desired liberty over the communication channel they prefer to use.  Interestingly still all their requests can be centralized and streamlined.
4. Tracks Vital Service Metrics
A Helpdesk ticketing system comes with built-in tracking and reporting metrics. It helps you determine whether your team members are working efficiently or not. 
The key metrics include average first reply time, ticket resolution time, requestor submission method, and much more.
You can also set up custom reporting and dashboards to track anything that you want. This system of reporting makes things work easier as you would be able to track the work done by your teammate on any issue in the past. 
Moreover, it adds transparency in working where you can quickly determine which departments are receiving more requests and what they are up to. As time goes by, these metrics become incredibly useful and help in shaping great service strategies.
5. Helps Prioritize Workflow
A ticketing system software allows you to prioritize your workflow better. It creates a "ticket" that documents customer requests where your team can prioritize important tasks and fix urgent issues. You can also make specific categories based on the urgency of tasks and assign a rank accordingly. Whether it is a trivial problem or a serious issue, nothing will go unresolved.
Our Recommendation
If you are looking for something that could help you delegate tasks to others where you can keep close tabs on their efficiency, a helpdesk ticketing system offers you all. It's best suited to those who are planning to start their own business and want to come across as a customer-centric entity. 
Are you looking to simplify your life further with a support ticket system? If yes, switch to Wowdesk – a next-gen ticket support system that makes it easy to assign, track and automate ticket processing. It's effective and affordable – contact us here to get detailed information!