When it comes to support ticket responses, HelpScout is on your list as a global help desk software provider that avails businesses of a shared inbox. Having Help Scout allows you to manage your support request emails over automated functioning.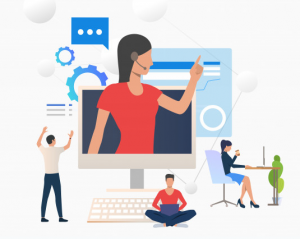 Despite being very popular and providing an excellent customer experience, there are some aspects of this system that confuses (and often irritates) users. HelpScout complicates certain processes for businesses and its users. Most of you will end up spending significant time in learning to use it. 
Here's why the need for a HelpScout alternative emerged in front of the customer support team.
Unfamiliar interface to manage the Gmail inbox

Inability to filter out spam and irrelevant emails

Weak analytics tools 

Unavailability of the timer function

Inefficient internal note workflows, and 

Most importantly, it's expensive. 
It is high time that you must switch to a smarter alternative to handle customer support emails and service requests without disturbing your workflows. 
What makes Wowdesk the best HelpScout Alternative? 
Wowdesk enables businesses to deliver exceptional customer service with its robust help desk software to manage support request tickets. The reason why you would prefer Wowdesk over Helpscout – its out-of-the-box features. 
Much Familiar Interface like Gmail
Helpscout provides an entirely different interface for managing support tickets. Your team would take time to get used to it.
Wowdesk replicates the smooth functioning of Gmail with a user-friendly interface. It also overcomes the spam filtering issue of HelpScout. Apart from this, Wowdesk allows you to customize email templates to communicate with customers and internal users. 
Internal and External Workflow Management 
There's no synchronization between the internal and external workflows of the support team in Helpscout. You cannot reply directly to assigned notes and differentiate between the internal and external messages.
In contrast, Wowdesk maintains a separate thread for notes and keeps your internal messages hidden from the customers. You can choose to add either public or private notes to the cases. 
All-in-one App for Support Channels
Helpscout asks you to download additional apps for live chats, social media, and other support platforms. A Live Chat System in Wowdesk awaits your presence! You can even configure chat requests to different agents according to the case category. Use your existing user profile on Wowdesk to login to Facebook, Twitter, or LinkedIn. Just one app for all your needs. 
Advanced Analytics for Customized Reports
Helpscout favors only small teams to show the overall performance of your members and other reports. When it comes to driving analytics reports for larger companies, you will lose track.
Wowdesk provides an advanced system to measure agent performance, monitor SLA, and track cases. From basic to customized reports, it creates a comprehensive data set for all your demands. Wowdesk also incorporates a Report scheduler to email reports automatically, working as a perfect helpscout alternative. 
Custom Pricing based on Company Size
There won't be any free plan under Helpscout by the end of the year.
Wowdesk believes in its competency in providing outstanding help desk features and, therefore, offers a free plan, too, along with custom pricing. Every plan covers different aspects of customer support, starting from $6 per user per month. You can compare all the plans selecting the one that suits your company size and budget. 
With Wowdesk, you can easily manage recurring issues like routine inspections and maintenance requests using the scheduled submission feature. Automatic task assignment and a variety of templates to choose from streamlines support services and enhance the customer experience. 
Make Wowdesk your HelpScout alternative, if you have got enough of Helpscout. Our exclusive range of help desk solutions aims to ease customer support service at your side. Not only you, but your customers would also love Wowdesk. Contact us to know more.