Startups can be daunting! You just need a great idea to put forward your initial step, but it really takes a lot more than that to survive. A startup doesn't strive only for your funds. Happy and satisfied customers do play a vital role. If you can keep your buyers pleased even after they check-out, customer support software is on its way. 
But while planning for new products and services and acquiring a new customer base, it becomes difficult to handle the issues that your existing customers face. If this is the case, then how can you maintain your pace with new clientele while satisfying your current consumers? 
There's this system, a help desk software, that allows businesses from startups to well-established firms to manage their ongoing functions efficiently without risking their company's growth. Let's explore how!
Happy customers mean double revenue!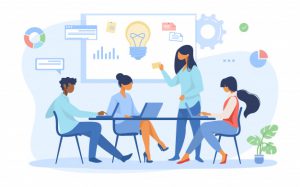 Why double? There's a simple chain that connects your customers with future revenue. When you make your existing customers happy with a help desk support system, they will surely think of a repurchase. Also, they would recommend your products to their near and dear ones. 
How come help desk support fits here? 
Addressing and solving customer issues, 24/7 communication, and a secure environment defines a help desk solution effectively. When customers get their answers, they are pleased!
Multitasking with refined efficiency
You can expect your employees to handle multiple issues simultaneously with the help of help desk support. They don't have to interrupt their current task or leave their workplace to address customer issues. Drafting a mail to the help desk serves the purpose. 
Your employees reflect smart behavior by utilizing their spare time in carrying out other business functions. What you will get in return – enhanced productivity contributing to the growth of your organization.
Improves First Contact Resolution Rate (FCR)
First Contact Resolution Rate (FCR) determines how many help desk tickets can have "resolved" status in the first attempt itself. An active helpdesk system allows you to track and resolve unexpected issues. Also, it gives you a fair chance to rectify problems right away with their arrival. Your help desk even prioritizes the tickets for you.
Some issues need special attention. You can handle them easily according to their priority levels. This way, you can ensure transparency and intelligence in your startup's functioning.
Help desk prevents confusion
Every employee in the organization is assigned a specific task. There is a specialist to handle critical issues of the customers. To enforce mutual understanding and smooth running of operations, you must make sure there is no finger-pointing for addressing consumer complaints. The help desk allows you to do just that. It reminds every technician of their assigned tickets. 
When your employees are accountable for their duties, there is no room for mistakes and confusion. You will have answers to all your customer queries without any doubt
Solve recurring problems without interrupting
It is tiring to solve the same problem again and again. It prevents you from concentrating on other essential processes. With the help desk software, you can never lag behind. The help desk records all the previously solved issues in its database. Whenever a similar problem arises, the system automatically looks in for the solution, fetches it, and resolves the issue. 
This automation is the reason why most of the businesses prefer using help desks to save their time and resources. The software solves many of these issues without allowing you to intervene in the process.
Ensures safety with scalability
When you think about growing your business, you invite more people to your circle. You surround yourself with a broad audience. But along with human interactions, there comes errors and mistakes. Your system stores confidential data of countless customers, and you cannot afford to risk it in the hands of just anyone. A reliable help desk solution helps you to implement robust security to prevent unauthorized access to it.
Scale safely with a help desk system executing business rules, policies, and processes to perform business functions correctly and consistently. 
Now, if this information really inspires you to buy the best help desk software, get in touch with Wowdesk today. We have a comprehensive set of solutions for your help desk needs. Customize your software in a way that fulfills your startup expectations.