You might be having the best customer service ticketing system at your disposal, but it is quite possible for you to get overwhelmed looking at the hefty number of tickets waiting in line. 
Your ticketing system might be super-efficient but there's still going to be one ticket you are going to avoid (c'mon, sometimes it gets difficult). Consequently, the difficult ticket may end up rotating from one person to another. 
As a result, your system gets stumped with a number of tough tickets as well as frustrated customers on the loop. What should you do? Of course, avoiding a ticket is not going to get you anywhere. However, staying updated and organized can help you in problem resolution. 
So, without further ado, let's have a peek at how you can handle tickets like a boss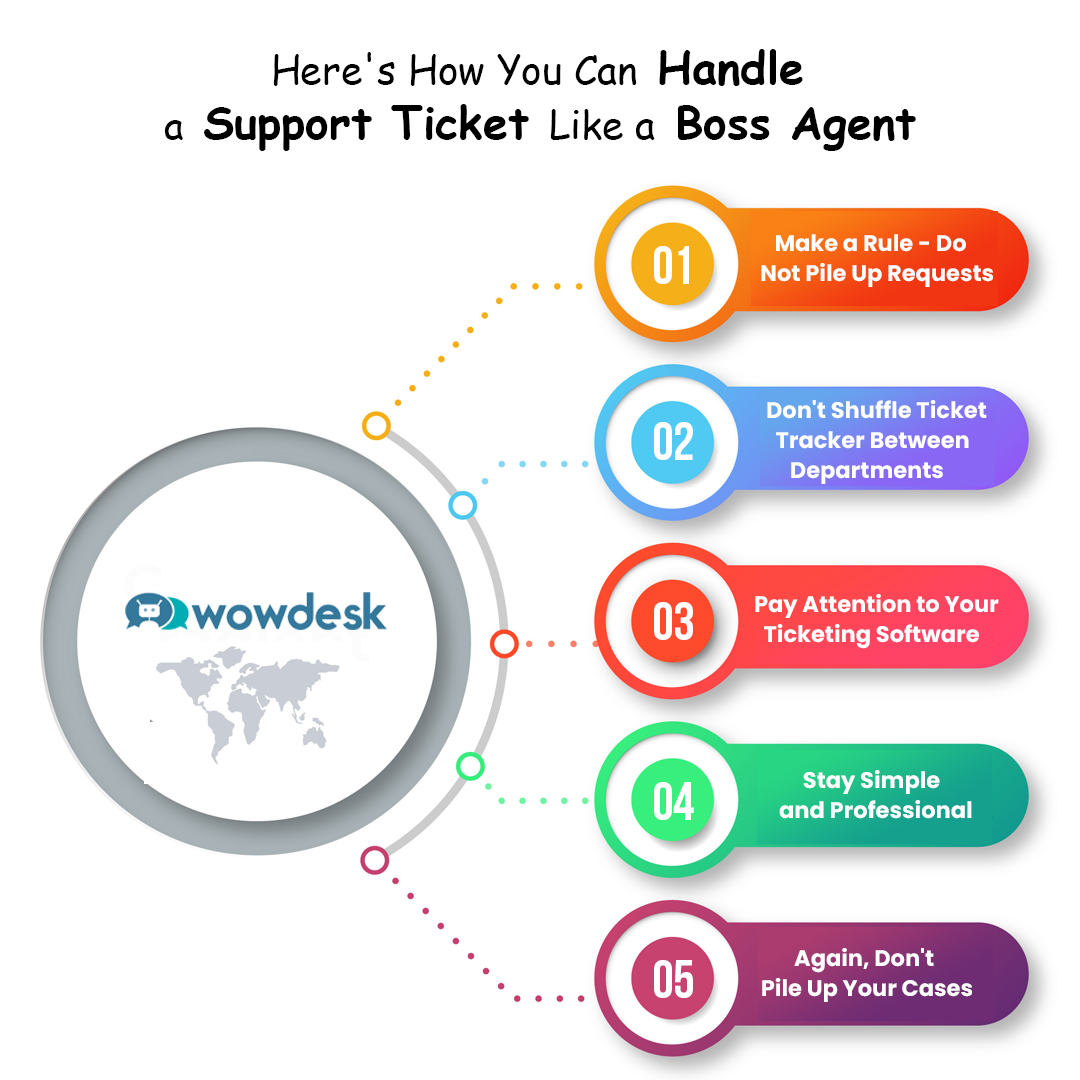 Make a Rule – Do Not Pile Up Requests
The first rule to ticketing system software is to stay on your toes at all times and avoid procrastination. Make it a rule to respond to the assigned ticket within 30 minutes. 
Yes, it is going to be difficult. However, it is going to work in the long run. There are going to be times when you might not even have an urgent solution yet you need to make your customers believe that you are working on the solution.
As a part of the helpdesk ticketing system, you will come across a number of problems and customers. Many of them shall be good while others will knock the daylights out of you with their arrogant words. Nevertheless, a quick positive response always works fine at both ends.
Don't Shuffle Ticket Tracker Between Departments
The worst thing you can do to burn out your ticket resolution is shuffling them between departments. For instance, sending the unresolved ticket to the technical team will let it unresolved for an unknown time. Indeed, the technical team might help you by sending you more information about the problem but you cannot forget that your customer is waiting for you on the line.
So, instead of shuffling tickets between departments, work on it as a team (even if it is another department). In the end, your job is to provide support to your customers and support can only be given with solid teamwork.
Pay Attention to Your Ticketing Software 
The best part about ticketing software is that it is easy and efficient. Whether you wish to assign tickets or be informed about the unresolved ones, the system takes care of all your needs.
How about the lost tickets? Or the ones that lost their status?
The trouble ticket software will only be a help to you if you use it properly and pay attention to your ticketing status. The selection of the right ticket status is essential for its resolution. For instance, putting the status open in front of a ticket implies active resolution while solved implies resolution. 
Stay Simple and Professional
You don't want to befuddle your customers with technical terms that are difficult for them to understand. Whenever replying, choose to reply in a language they are able to comprehend. Write clearly, outline your agenda, explain what took you so long, and apologize. 
Let yourself be as simple as possible while dealing with customers for a better business relationship.
Again, Don't Pile Up Your Cases
Whenever thinking of resolution, your old case should get first attention than the fresh one. It won't matter who lodged a ticket first but whose case was the oldest. 
The old ticket implies that the customer is still waiting for a solution and you cannot hang in your customer for the new requests. 
Make it a habit of resolving old cases before jumping on to new ones. Piling up will only make things worse at your end. 
Conclusion
Do you know who is a boss? Someone who works smartly, efficiently, and takes his team with him. That's what you need to become when dealing with tickets. Keep your senses open and work on the best solution to the problem.
In case, you are having trouble with your ticketing software, maybe you should look for the best software. Here, we are talking about Wowdesk which resolves most of your issues in a jiff with its amazing tools and features. Start your free trial now.