People often get confused with the terms 'customer experience' and 'customer service' and use them interchangeably. However, please note that they are different words with different significance. Customer service is reactive and influences the overall customer experience. Companies should pay attention to customer service to ensure delivering a perfect, and gratifying customer experience. 
Now, there are so many posts that suggest how you can improve the customer service strategy, but very few that educate what should be avoided to keep your clients happy at all times. Let us have a look at some more customer service pitfalls that are common and you should avoid, always!
Customer service pitfalls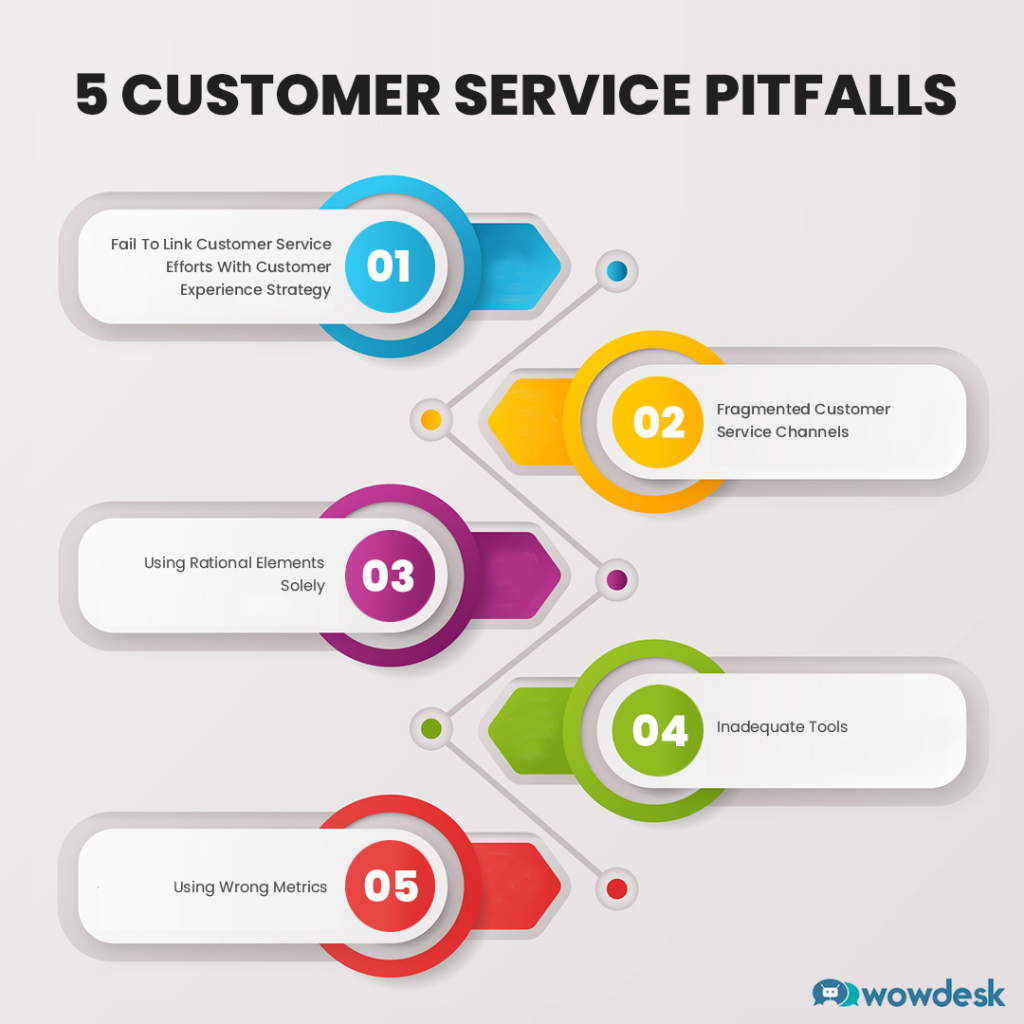 1. Fail to link customer service efforts with customer experience strategy 
This is the first pitfall that many organizations fail to achieve. The unclear role for customer service leads to weak decisions for funding and prioritization. 
Creating a clear vision for customer service experience and defining the purpose of customer service for a strong customer experience strategy. The organization that follows this thing can offer great on-time delivery and customer service. 
2. Fragmented customer service channels
Organizations deliver soiled and fragmented customer service experiences. Difficulty in meeting actual customer service needs promptly forces them to switch to different channels to fulfill their needs. Profitable businesses reduce customer efforts using updated technologies. They implement a CRM system and customer support software to frictionlessly exchange information between service agents.
3. Using rational elements solely 
The third pitfall that should be avoided is trying to make customers satisfied solely with rational elements of customer experience. It simply means that when an organization highly relies on digital medium and self-service to deliver customer experiences, it becomes difficult for them to connect with an emotional bond with customers. 
Companies that create an emotional bond with their customers will get more recommendations. 
4. Inadequate tools
When employees don't have adequate tools and knowledge-base it also results in a pitfall. Agents often struggle with soiled data and information that pushes them to wander across multiple systems to respond to even the common queries. To overcome this organization needs to equip their agents with more informed analytics and the best customer service software. 
5. Using wrong metrics 
The use of wrong metrics to track customer service performance. Almost all organizations admit the importance of customer service, but very few modify their metrics to reward the right behavior. However, gradually organizations are shifting towards first contact resolution and customer satisfaction to ensure customers will get resolution in the first contact and need not switch between multiple channels. And it can be easily possible with customer service software.
These are all customer service pitfalls that the organizations must avoid for greater customer satisfaction and better customer experience. 
Wowdesk comes up with the ultimate solution to overcome such customer service and customer experience problems. Our system is rated as simple yet best customer support software that eases the work of the customer support team and allows them to hold your customers for a longer time. Get started today!