It's crucial to earn customer loyalty in business these days. 
Loyal customers rarely shift to competitors. They share their positive experience with your company through word of mouth, it means they bring more customers to you without your direct efforts. 
So the question is, how do you earn loyal customers?
The answer to it is straightforward – exceptional customer service.  
According to a Microsoft report, for 96% of customers, good customer service is important in their vote of loyalty to a brand.
It will be a challenge to provide exceptional customer service if you still respond to your emails using Outlook or keep a track of responses through post-in notes and Excel spreadsheets. 
If you want to overcome this challenge, investing in the best customer service software is what you should do. 
Benefits of using customer support software
Customer support software allows you to manage, organize, respond, and track all customer service requests effortlessly. You can track all customer service requests with just one-click reports. The reports show your response times, notify for unanswered, and urgent emails from customers.
Here we share the most common benefits of customer service software.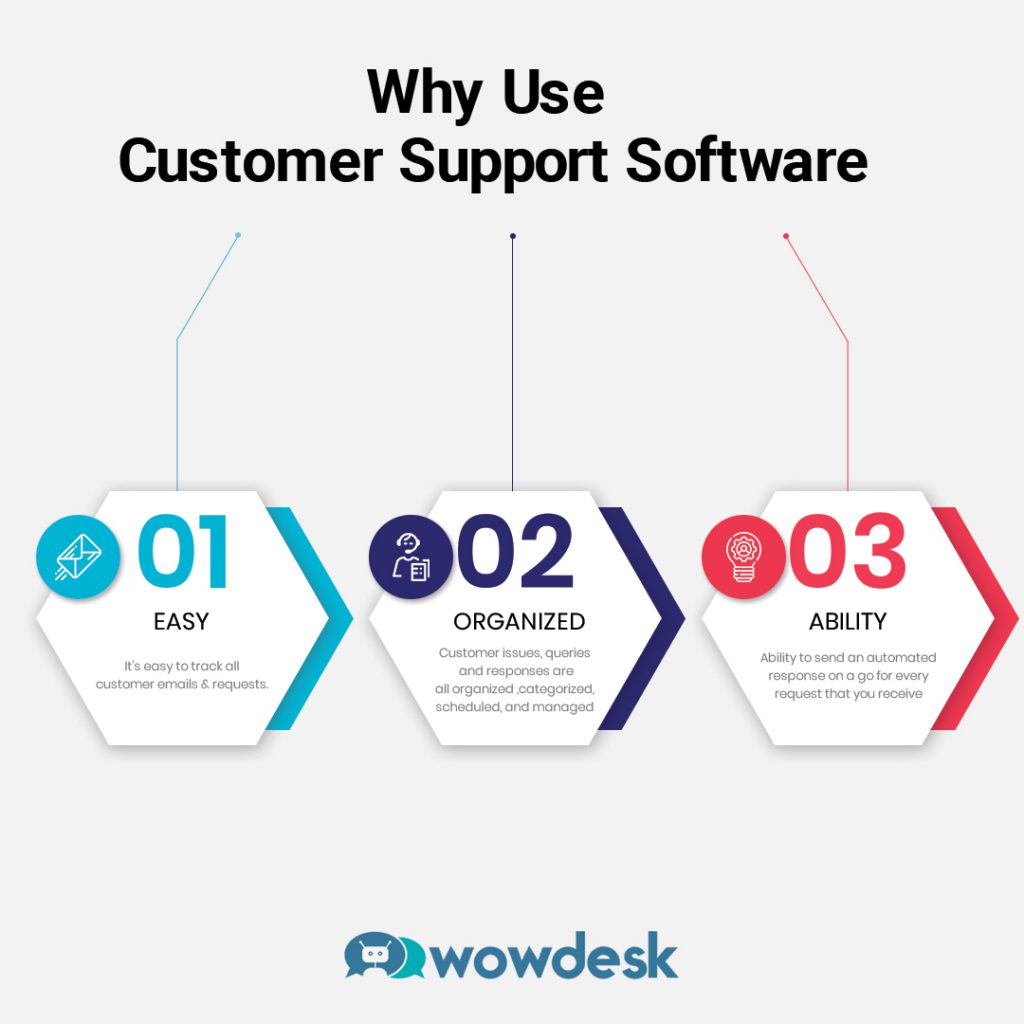 1. Easy to track all customer emails & requests
Customer requests come from all mediums and it becomes impossible to track them, as a result, you lose the count of unanswered requests. 
If it sounds familiar to you, you need customer service software. It will help your company to streamline your way to handle customer requests. Each request that comes in will get assigned a unique reference number. Using this unique number, you can easily track previous request history & backlogs. 
This way, whenever any old customer contacts you, you can find their request without any hassle. 
2. Automation, performance, and reporting 
If you are using the spreadsheet to track customer issues and responses, it will become hard for you to provide a report on the performance of the customer service department. Here a support software can be a boon for you, as it stores everything organized at a single place. 
Using software your customer issues, queries, and responses are all organized, categorized, scheduled, and managed. 
In a matter of one click, you can create easy-to-read customer service reports. A report that shows the trends and performance of your team, so that you can get to know about areas of improvement and your team's progress. 
3. Automated response 
If talking practically, it is not possible to immediately answer every customer issue. Even customers generally don't expect this from a company. What they expect from you is they get acknowledged by you. For example, you can acknowledge them with a simple message that you have received their request and are now working on solving their issue. 
Using customer service software, you can send an automated response on a go for every request that you receive. 
An automated response includes a unique reference number for the request, customer support working times, and a FAQ link or knowledge base. These links might even help the customer to solve the issue on their own!
Improve your customer loyalty using Wowdesk – it is rated as one of the best customer support software. Start your free trial today.