Streamline small businesses with robust customer relationship management software
Do you rely on spreadsheets and emails to lock in your customer data? If yes, then try to understand whether it's working perfectly for you or not. Ask yourself the following questions to ascertain the effectivity:
Have you got organized?

Is it easy for you to keep track of spreadsheets?

Is it time-efficient and helps in generating leads?

Do you get the required data to create valuable sales reports?

Can you get immediate access to your customer details through spreadsheets?
If you don't get satisfactory answers to all these questions then, make sure to implement customer relationship management software, it would help you grow your business. A robust customer support software can help you boost productivity, reduce human errors, and maintain a satisfied clientele. Here we have listed seven ways a customer management software solution can support your growing business. 
7 Ways Customer Relationship Management Software Will Help Your Small Business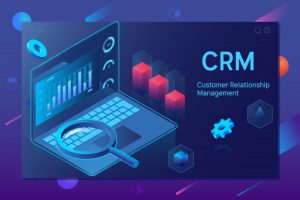 1. Automatic Data Entry
Having a CRM allows your sales and marketing and customer support professionals to access the information, and you can easily retrieve details from the database. Employees can share data in a customized way, and advanced CRM helps eliminate duplicate contact records from the database.
2. Better Reporting
CRM software takes care of your reporting where you can easily track numerous opportunities and keeps track of campaign performance. Having all the accurate data about these would help you to forecast revenue. All these parameters would help you keep track of insights into the growth of your business.
3. Improved Productivity
Customer relationship management software improves your productivity by collaborating with multiple people at a single platform. This way, you can share crucial data and insights and automate tons of processes. It helps to streamline operations, and you can spend on essential tasks.
4. Centralized Data Management
Retrieving information is a time-wasting task, and a lack of a centralized data management system reduces productivity. With CRM software, your employees can store data in one place and are accessible to every user, which ensures that everyone is on the same page.
5. Effective Communication
CRM maintains the customer history that gives the basis for better communication with the customers. If a representative leaves your company and a new rep is supposed to deal with his customer, it smoothens the conversation as the new rep has all the customer history in front of him.
6. Task Automation
Another great way that CRM helps with is task automation. When you tend to convert a lead, you need to create and send reports, sort various onboarding issues and ensure that you address every customer properly. These tasks are a little time consuming and implementing a CRM would help to automate tasks which saves your precious time.
7. Mobile CRM
A well designed CRM software allows you to access crucial data through mobile devices which helps your employees to manage appointments, track deals, and access the data anytime. This way, they carry their business in their pockets.
Now that you know the importance of implementing a customer relationship management software, you can automate your tasks, retrieve crucial information, and streamline all your operations.
If you are looking for such a robust CRM software, then we recommend you try the CRM software solution from Wowdesk, it will help you manage your customers effectively and efficiently. Click here to know more!