When customers get associated with brands, they place a hefty baggage of trust on its shoulders which brands needs to carry on and safeguard with a mile-long-smile. This trust begins with the help desk software time a customer clicks on a brand's website or ring them to places an order and goes on till the time he or she is using the product/services. With this 'heaviness' to take care of, a brand cannot afford to falter on what it has promised its customers. And if it did falter at some point, the failsafe for a brand becomes its customer service team to put corrective measures in place for damage control.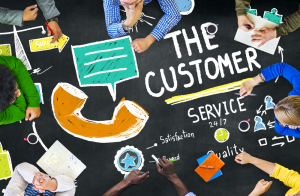 So unless a brand is looking to shoot itself in the foot, a business cannot afford to have a lackadaisical approach while handling its last resort of loyalty-redemption (read customer services). So how to meet, or even better, exceed the expectations of customers when they approach customer services? Well, have a glimpse of 3 surefire ways of making your customers happy and satisfied the moment they fall back on customer care for resolving their queries and issues-
MULTIPLE COMMUNICATION CHANNELS
It is the age of technology. People are pretty much glued to their devices around the clock. To ensure that your customers have all-day access to your customer services platform, you need to have at least 5 customer support channels integrated in your help desk software (we will talk about this later on).Here aresome of the most popular communication channels –
Cell-Phone: Over 70% of interaction with a customer care executive is held over phones! People love to live through this 'white light square device' and it does make reaching out to a company easier. It provides very organic approach to customer dispute resolution with humans on both sides of the tables to discuss issues in lucid and detailed manner.
Email: Another critical touchpoint for an organization to consider while establishing connection to clients is email. With more detailed and "in ink" approach of emails, customers are reassured of the commitments you promise to deliver against a query or an issue. Just make sure the email communication is handled in a streamlined manner with replies grouped together so that customer does not end up hopping from email to email.
Social Media – A blessing of the decade, social media has become a force to reckon with when it comes to connecting with customers. Once the customer has initiated the communication, the balls land up in your court and you need to make sure that a social media team is ready to shoot a swift response and resolve the query.
Live Chat – Nothing better than mano e mano way of communicating when we talk about customer services! A customer feels more connected with the brand while carrying out live chat and for your brand it is much easier to understand the intricacies of the problems.
Help Center –Sometimes the queries raised by a customer fall into a pattern your company has encountered before. So it is a smart move to let the customer find quick and easy answer in your knowledge database before reaching out the executive. This does two things- cutting cost on human resources and cutting time for the whole process.
DEDICATED HELP DESK MANAGEMENT SOFTWARE
This is the pivotal point to adopt if you are really committed to provide exceptional customer service to your users. Days are long past gone when queries and problems were dumped in an excel sheet and then handled from thereon. With ever-expanding business to meet steadfast demands, more and more customers fall back on customer care platform for quick resolution of their issues. Now making your customers wait with the archaic old-school method of dispute resolution does not cut it. Here comes in Help Desk management Software as a saving grace. By unifying all communication channels together, bringing together access to the resources of an organization at one place and ensuring that the services delivered to the customers are gauged on the performance scale every time a query is closed, helpdesk system ensures that approach remains customer-centric with focus on delivering rapid responses with high satisfaction rate.
PLACE A FEEDBACK LOOP
With Help Desk management Software in place,an important component of the process becomes feedback loop which becomes decisive in turning an average customer service into a distinguished one. By reaching out to the customers once the issue has been addressed, feedback loop ensures that your business able to establishing a system that can provide you a 360 degree view of the customer care process rather than tunnel vision. What is does is that it empowers your organization to fill the gaps between the expectations and commitments for an effective customer support along with continuously streamlining the process.
These are not all. Customer service is more of a subjective entity for an organization ruled by variables linked with the business. Sometimes it makes more sense to put a human interaction in place and sometimes machine learning can do the job. So measure your needs, put in place a holistic customer service platform with refined help desk software and turn users into loyal patrons with your undying commitment towards them.